LC35 Maison 6 personnes Le Conquet
Maison / 6 Personne(s)
Résidence : Maison propriétaire
Beautiful sea view. Comfortable and calm house. 200m from the beach. 400m from the town center
LC35
397€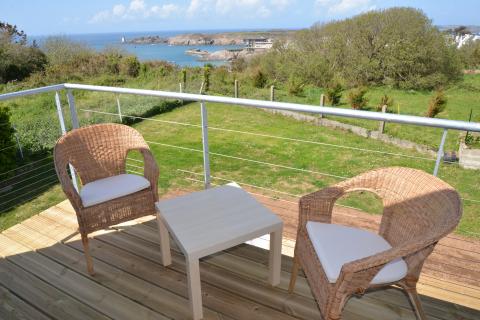 Pleasant house for 6 persons, 3 bedrooms, sea view
- Nice amenities and bright rooms
- 500m2 garden with a 30m2 terrace
- 300m from the town center and all facilities
- 200m from two different beaches, "Portez" and "Le Bilou"
- 50m from the GR34 path
- Parking spot
- Semi-detached house (the adjoining house is inhabited by one person)
On the ground floor:
- 50m2 living room including :
o Equipped kitchen
o Large table with 8 chairs
o Living area with 2 couches, 2 rattan armchairs, and a coffee table
- First bedroom with a double bed (140x190), large wardrobe, quilt provided.
- Bathroom with a "walk-in" shower (Italian shower)
- Independent toilets
On the top floor :
- Second living room with a TV and a sofa bed. Access to an outside deck through a sliding door window
- Second bedroom with a double-bed and access to the outside deck through a sliding door window. Sea view
- Third bedroom with 2 single beds (90 x190), quilts provided
- Bathroom with a shower, a sink and toilets
Miscellaneous
- Washing machine, dishwasher, iron and ironing board, drying rack
- Electric subfloor heating, heat pump
- Water and 100Kwh electricity are included during summer. Water included and actual electricity consumption during winter (from September the 1st to May the 1st).
- We are happy to welcome your pet but please contact us at booking via email or phone.
- Price for 6 persons. 40€ per extra person
Commentaire coup de coeur:
Beautiful sea view. Comfortable and calm house. 200m from the beach. 400m from the town center
Attention, tous nos tarifs sont indiqués par semaine. Pour des périodes courtes et hors saison, merci de nous contacter directement par téléphone ou mail.
09/04 au 07/0528/05 au 09/0727/08 au 01/10
507€
27/09 au 18/1001/11 au 20/12
397€
18/10 au 01/1120/12 au 03/01
477€
Le Conquet... Ici commence la mer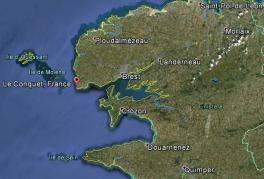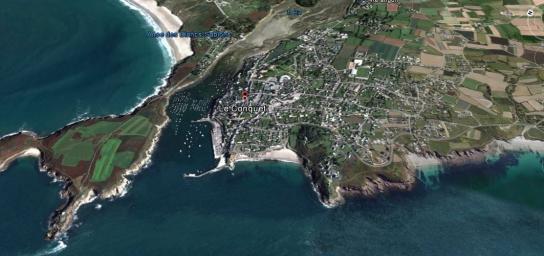 Située à la pointe extrème de la Bretagne, la petite ville du Conquet est tournée vers la mer. 2ème port de pêche de crustacés de France, vous apprécierez son port typique avec ses anciennes et belles demeures en pierre et les nombreux bateaux caseyeurs qui débordent de casiers colorés.
Le Conquet est le port de départ vers les ïles de OUESSANT et de MOLENE ; 1 heure de croisière vous suffira pour vous dépayser et vous retrouver au milieu de l'océan dans des paysages époustouflants. Vous pourrez aussi à partir du Conquet, effectuer des excursions en mer à la rencontre des phoques, des dauphins, des cormorans, goêlands, mouettes, sternes ou fous de bassan et vous approcher des phares en mer si précieux pour la navigation des marins.
Le chemin côtier, GR 34 vous guidera le long de la mer à la découverte de belles plages, de criques sous des couleurs toujours changeantes.
Amis pêcheurs, vous vous régalerez de la pêche à pied, de la pêche à la ligne le soir sur la digue au coucher du soleil.
Chacun y trouvera son bonheur
Histoire de la commune
Le Conquet doit son nom à l'anse de Poulconq (Poulconquet en 1398). A l'origine, la population réside dans la petite ville voisine de Lochrist. Le Conquet a souvent été assiégé par les Anglais ; beaucoup de maisons furent incendiés mais il reste heureusement de belles demeures qui témoignent de cette époque dont la très belle "Maison des Seigneurs" dont la tourelle surveille le port.
Patrimoine
Vous n'oublierez pas de vous balader à la découverte
du vieux port et du nouveau port
du centre ville et ses belles maisons en pierre
de la presqu'île de Kermorvan et de ses mégalithiques
de la Pointe Saint Mathieu, son ancienne abbaye et son phare
Activités et Loisirs
nombreuses plages de sable fin : les Blancs sablons, Pors pabu, Le croaë, Portez, Le Bilou, porsliogan, Grève bleue
activités nautiques : surf, canoë-kayak, voile, plongée
départ pour les Iles de Ouessant et Molène
découverte de la flore, de la faune et des phares en zodiac
pêche à pied, pêche à la ligne
chemin côtier de grande randonnée GR34
visite d'Océanopolis à Brest
visite de Brest, l'arsenal, le jardin botanique
Gastronomie
possibilité d'achats de poissons, crabes et homards, en direct avec les pêcheurs
restaurants de fruits de mer
dégustation de crêpes
plats locaux, kig ar farz, kouign aman